We suddenly have found ourselves in a moment of crisis. An unexpected and reverberating shock to the system. Best expressed by Lux Capital in their year-end 2019 letter to shareholders:
"Indeed, by our account: there were no accounts that rightly anticipated, let alone registered, the magnitude of a tiny 120-nanometer particle, roughly the wavelength of ultraviolet light, that would ripple and replicate across the globe with virulent ultraviolence."
Now we are faced with unprecedented unemployment, public markets that are setting new historical records for volatility, and most of America sheltering in place. Maslow's Hierarchy has never been so prevalent in our lives. However, the human race is resilient, far more resilient than we had likely given ourselves credit for pre-crisis. The ability of employers with 10,000+ people to suddenly move into a remote environment, the mobilization of grocery delivery to more remote locations, continued support for school lunch programs, hospitals preparing for an onslaught of patients, mobilizing remote beds and temporary health clinics.
---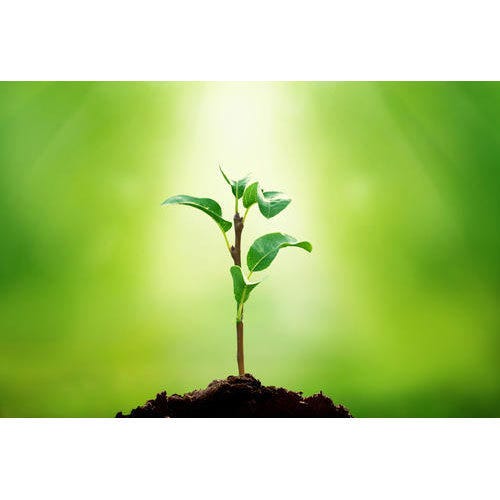 Adversity Leads to Innovation
While this is far from over, it is important to remember that in the past, times of adversity have created some of the greatest opportunities. People are cast into unique situations and are forced to view life from a different lens.
Suddenly, individuals who may have been used to working 14+ hour days in a grinding and high-pressure environment, now have a renewed arsenal of time either by working at home or by, unfortunately, not working at all. All of our usual distractions - sports, going to the movie theaters, eating out - have been put on hold. This has all resulted in more time. Time to think. Time to experience. Time to be a human being, not a human doing. Right now, many of us are living in a different world, a world where time has slowed down. When talent meets time, worlds collide and sparks fly.
As proof of this, here are some of the startups you have probably heard of that were founded in 2008/2009 during the financial crisis:
Within days of our first cases in Seattle, the tech and venture industries started mobilizing. There were hackathons and resource pages being created everywhere to try to address the current challenges and help those in need. The tech community was determined to be part of the solution that can last beyond our current crisis.
One of the best examples of this is the incredible effort and organization by the State of Colorado led by startup leaders such as Brad Feld at Foundry Group and, our former Cintrifuse CEO, Wendy Lea. The State of Colorado has created an Innovation Response Team, whose initial focus will be on "ramping up a mass testing program for the COVID-19 virus, creating a suite of services for citizens under isolation or quarantine, developing mobile and other technologies to help track the spread of the virus and support infected citizens, and developing locally sourced alternatives for constrained critical medical supplies" according to the Governor's office. They have also created an Emergency Council on Economic Stabilization and Growth, which is being led and chaired by the former Mayor of Denver, Frederico Pena. They have assembled over 300 professionals to help deliver innovation and resources for urgent needs.
And there are hundreds of stories like this across the country. Companies in all industries pivoting to address the urgent needs that the Coronavirus needs. 3-D printed N95 masks, modified medical sterilization for PPE reuse, make-shift respirators and a host of other quick shifts to address current shortfalls.
Also, for the first time in history a coalition of tech behemoths, including Facebook, Microsoft, Twitter, Giphy, TikTok, Pinterest, Slack, and WeChat, have teamed up to provide resources and developers to participate in a hackathon to combat COVID-19 in partnership with WHO.
---
What New Technologies will Emerge?
Life and the way we live it WILL change on the other side of this crisis. Many industries will never go back to "normal." These new norms will necessitate new capabilities and new levels of sophistication that don't currently exist in the market. Some of these likely changes include:
· Remote Work. As companies and teams get more accustomed to working remotely, many businesses may decide to forego expensive office space and opt to continue on this new path. Remote work and dispersed teams were on the rise before this crisis and the impact of "sheltering in place" is only exacerbating that trend. Because of this, teams will demand increased connectivity and more seamless communication and collaboration across users and devices.

· Education. With most schools currently out and likely for the rest of the academic year, there is an incredible demand for education resources online and parents try to continue their child's learning. This extends all the way from primary schools through post-collegiate degrees. It is also likely that, in the post-crisis period, fewer students and families will have the ability to pay for traditional (read: expensive) higher education. Alternative forms of education, including apprenticeship programs and online degree programs, will become more mainstream.

· Esports and Gaming. Leisure markets are currently seeing an incredible surge, and this is especially true with esports and online gaming. While much of this is temporary, there are entirely new demographics, including kids with previously limited screen times that have now been relaxed as parents juggle competing obligations as well as middle-aged and older individuals with much more time on their hands. As these new demographics develop an affinity for esports and online gaming, there will be a strong subset that will stick with it after the quarantine is lifted.

· Social Norms. As many people, globally, are quarantined in their homes, they are starting to shop online much more, and may now view delivery, including things like grocery delivery, as a safer alternative instead of a luxury. Indeed, many peers have expressed concern in returning to crowded environments such as bars and public transportation even after the Coronavirus is over. I have been inundated with emails touting startups that are "contactless." These capabilities span sectors like contract management, prop tech, and ecommerce. People are much more cognizant of what surfaces they are touching and how often they are washing their hands.

· Wellness. The ongoing struggle to test potentially infected individuals and get results in an acceptable timeframe has renewed the demand for real-time wellness sensing. Connected wellness capabilities through sensors, monitoring, and feedback loops is a massive white space left to be solved. Consumer are readily adopting new technologies to inform them of their own health and wellness statistics in real time.

· Enterprise. Enterprise software has realized a huge evolution already; the migration to cloud being prime among them. However, this current environment will require a new evolution to frictionless integration and more plug and play programs. As enterprises also navigate their new environments and new normal, there will be increased investment in DevOps capabilities to ensure uptimes and connectivity among teams and customers.
The Cloudflare (part of the Cintrifuse portfolio through our investment in Pelion) chart below shows the overwhelming changes in internet behavior pre-crisis to present.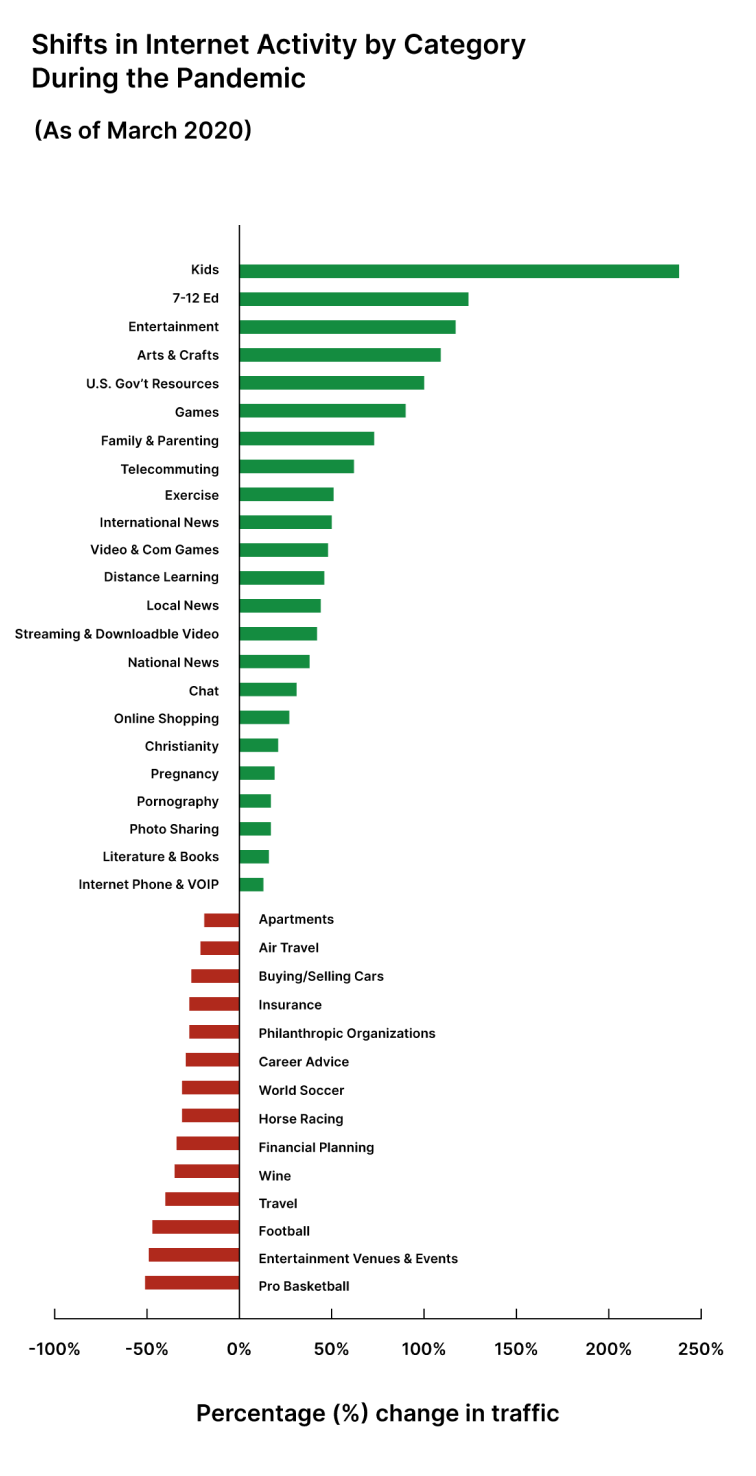 There is a lot of fresh talent that now has time to think and create new solutions and capabilities in a time when the way we live and work is taking on new realities. This economic slowdown, will undoubtedly, see the birth of many new success stories in the world of startups and business creation.
---
What Can We Do?
For those of us in the venture and corporate worlds who are lucky enough to still be fully employed, there is a new part to our jobs: to create new opportunities for talent that has newfound time to flourish in their own endeavors. There are many ways to do this that don't require capital; just will and passion. Here are some ideas worth trying:
· Host a hackathon (virtual for now; in-person once we are all back together) for specific challenges and needs. Coalesce distributed talent that has the time to start thinking through unique solutions. No capital is needed, no promise of partnership or pilot. Just a challenge and some talent to come together.

· Create a community. Many startups are being forced to lay off talent. Creating a space where this talent can find each other, partner, ideate, or just talk amongst themselves is invaluable.

· Provide support and safe harbor through free workspaces (once we get out of quarantine). Being able to work alongside like-minded people, either within a corporation, a venture community, or startup ecosystem, creates the necessary support structures to stoke passion and creativity.

· Open doors to contacts and connections. As talent begins to develop their own thoughts and solutions to the world's current challenges, they can be supported through new contacts that can provide insights and feedback to help them iterate ideas.